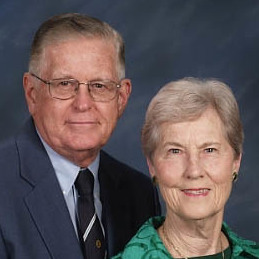 Dr. Larry and Mary Margaret McNeill
Larry McNeill is proud to be a member of the fifth generation of the McNeill family born in either Hoke or Moore County; Mr. McNeill is a Raeford, North Carolina native. He completed his undergraduate degree at Davidson College in North Carolina. After graduation he received his ROTC commission and was soon stationed at Fort Benning in Georgia and later at Fort Jackson in South Carolina. After his discharge from the army Larry began teaching English as well as coaching golf and basketball at Dreher High School in Columbia, SC. He soon completed his Masters Degree in English, and returned to the Sandhills in 1968. Later he completed his PhD in English and was a much beloved professor of English at Sandhills Community College from 1968 until his retirement in 2001. Mrs. McNeill fondly recalls stories his students have told her over the years about how much they learned from and enjoyed Dr. McNeill's classes.
Like her husband, Mary Margaret Woodward McNeill has an extensive association with Sandhills Community College. Mrs. McNeill was a graduate of Sandhills in 1977. She taught Communication Skills part-time for several years. She has served on the Sandhills Community College Foundation Board since 1998, and she served as the Foundation's Donor Recognition Committee Chair for over a decade. Much of the donor recognition seen across the Sandhills campus is the result of work done by the committee under Mary Margaret's steady guidance. In 2007 when the SCC Alumni Association was re-formed Mrs. McNeill volunteered and continues to serve as an alumna on the association's Board of Directors.
The McNeill's have a room dedicated in their honor at the Hoke Center, the McNeill Nursing Classroom and Lab. In 2014, Dr. McNeill was inducted into the SCC Athletic Hall of Fame for his coaching and contributions. He continues to teach one English class on part-time basis.